Landmark moment for park's exciting restoration - update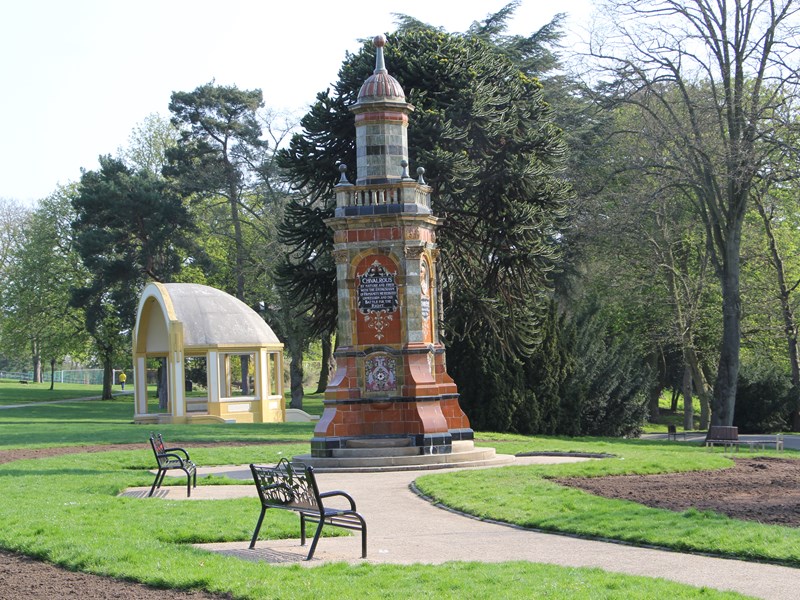 Exciting and ambitious multi million pound plans to restore a flagship Kidderminster Park were approved by Wyre Forest District Council's planning committee on Tuesday 16 June 2020.
The committee granted planning permission for a raft of major improvements at Brinton Park, including a new cafe, an extension to the Sons of Rest Pavilion and the re-instatement of an ornamental pool on Tuesday 16 June.
The application was approved, subject to a number of highways conditions, also includes improving car parking, creating a new exit, installing new public art features at the park's entrances and relocating a water tank and poly-tunnel at the Twigs Nursery run by the Emily Jordan Foundation. 
The National Lottery Heritage Fund and The National Lottery Community Fund have already awarded initial support* to the project and a development grant of £217,700 towards the early stages of the project and will consider a full grant of £2.4million to fund the restoration and a raft of activities. 
If the National Lottery grant application is successful, building work could start in September 2021 with other activities, including community engagement activities and the appointment of two Community Engagement Officers towards the end of this year. 
Wyre Forest District Council contributed £25,100 towards the project's early stages which has involved partners from local groups based in the park; 21st WF (Brinton Park) Scouts, Emily Jordan Foundation and The Pickup Artists.
Councillor Helen Dyke, Cabinet Member for Culture, Leisure and Community Protection said: "This is a landmark moment in what undoubtedly is an ambitious and exciting project that will breathe new life into a much-loved park that local people depend upon.
"The current pandemic underlines how important open spaces like this are to our local community. I have no doubt they will continue to remain important to people for a very long time to come.
"This restoration scheme would preserve the history and heritage of Brinton Park and will make sure that the local community can use and enjoy its facilities and activities for many more generations."
You can view the full application on the council's online planning portal. 
If you'd like to keep up to date with the project, find Brinton Park Heritage Fund on Facebook and Twitter (@BrintonParkHLF).
People can also sign up for regular updates about the project by subscribing to the council's 'Things to do, see and visit' email newsletters at www.wyreforestdc.gov.uk/subscribe.
For more media information from Wyre Forest District Council, please contact:
The Communications Team on 01562 732988 or  by email.
* The National Lottery Heritage Fund grant applications over £250,000 are assessed in two rounds.  The Brinton Park project has initially been granted round one development funding of £217,700 by The National Lottery Heritage Fund and The National Lottery Community Fund, allowing it to progress with plans.  Detailed proposals are then considered by The National Lottery Heritage Fund and The National Lottery Community Fund at second round, where a final decision is made on the full funding award of £2,410,000.
National Lottery and public parks
Since 1996, more than £950million raised by National Lottery players has been used to support the regeneration, conservation and increased enjoyment of public parks and cemeteries across the UK. Find out more about how to apply at www.heritagefund.org.uk
About The National Lottery Heritage Fund
Using money raised by the National Lottery, we Inspire, lead and resource the UK's heritage to create positive and lasting change for people and communities, now and in the future. www.heritagefund.org.uk.
Follow @HeritageFundUK on Twitter, Facebook and Instagram and use #NationalLotteryHeritageFund 
About The National Lottery Community Fund
We are the largest community funder in the UK – we're proud to award money raised by National Lottery players to communities across England, Scotland, Wales and Northern Ireland. Since June 2004, we have made over 200,000 grants and awarded over £9 billion to projects that have benefited millions of people.  
We are passionate about funding great ideas that matter to communities and make a difference to people's lives. At the heart of everything we do is the belief that when people are in the lead, communities thrive. Thanks to the support of National Lottery players, our funding is open to everyone. We're privileged to be able to work with the smallest of local groups right up to UK-wide charities, enabling people and communities to bring their ambitions to life.
Website │Twitter │Facebook │Instagram
In 1882 my great great grandfather John Brinton donated 32 acres of land in the town centre of Kidderminster in Worcestershire as a pleasure ground for the enjoyment of the town's residents.

Julian Brinton
Project team
The Hub
Green Street
Kidderminster
Worcestershire
DY10 1HA
Love the park?
Get involved
There's going to be lots to get involved with as the project goes on. Our community page outlines some of the different ways you can join us.